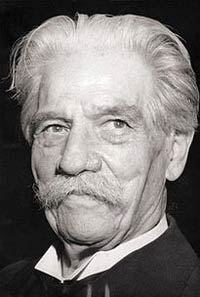 Born: Jan 14, 1875 in Kaysersberg, Alsace-Lorraine, Germany (now Haut-Rhin, France)
Died: Sep 4, 1965 (at age 90) in Lambaréné, Gabon
Nationality: German, French
Fields: Medicine, music, philosophy, theology
Famous For: His interpretive works on the life of Jesus
Albert Schweitzer (1875-1965) was a German-born philosopher, theologian, physician, musician, and missionary in Africa. He is famous for his interpretive works on the life of Jesus. He founded the Albert Schweitzer Hospital in west central Africa and worked there until the end of his life.
Early Life and Education
Schweitzer was born in Kaysersberg, Germany, into an Alsatian family. His father was a Lutheran-Evangelical pastor who taught him music. He spent his early years in Gunsbach, a village in Alsace. After World War I, this area was reintegrated into France. His childhood language was Alsatian, which was a German dialect.
In 1893, he received his secondary education certificate at Mulhouse High School. He studied the organ with Eugène Munch, an organist with the Protestant Temple. He enrolled at the University of Strasbourg to study Protestant theology. There, he also studied piano and counterpoint with Professor Gustav Jacobsthal.
He worked closely with Ernest Munch, an organist at the St. William church and his former teacher's brother. In 1894, Schweitzer spent one year performing his compulsory military service.
Schweitzer's Continued Education
Schweitzer went to Paris in 1898, to complete his Ph.D. dissertation at the Sorbonne. He often met with Aristide Cavaillé-Coll, a distinguished organ builder and he studied piano with Marie Jaëll. In 1899, Schweitzer finished his theology degree and published his thesis.
That same year, Schweitzer started preaching in Strasbourg at the St. Nicholas Church. He served in a variety of high-ranking administrative positions from 1901 until 1912 at the Theological University of St. Thomas. In 1906, he published a book entitled The Quest for the Historical Jesus which was widely acclaimed by many other scholars.
During this time, he also focused on his musical career. He was a concert organist who later became internationally known. He earned funds from his professional engagements that he used to pay for his medical education and later for his hospital in Africa.
Schweitzer' Philosophy of Civilization
In 1915, Schweitzer came across the saying "Reverence for Life." Upon hearing it, he believed this to be not only an elementary principle, but also a basic universal principle of ethics that he had been searching in life. He stated that the "will to live" was found in all living creatures and he focused on the unity and inter-dependence of all life. Schweitzer was one of the first to discuss the welfare of animals and the environment.
He believed that humans were connected to all living beings, and that we owed them the exact same respect and care that we wanted for ourselves. His quote illustrates this perfectly: "I am life that wants to live, in the midst of life that wants to live."
Medical Studies and Life in Africa
In 1905, Schweitzer started studying medicine at the University of Strasbourg because he wanted to become a medical missionary in Africa. He received his medical degree in 1913. Next, he established his Lambaréné hospital in French Equatorial Africa.
In 1918, he went back to Europe, preached at his old church, gave concerts and lectures, enrolled in medical courses, and authored several books. Some of those books include On the Edge of the Primeval Forest, The Decay and Restoration of Civilization, Religions of the World and Christianity, and Civilization and Ethics.
In 1924, he returned to his Lambaréné hospital, and with the exception of short durations, spent the rest of his life in Africa. He enlarged his hospital with donations, fees from personal appearances, and royalty money. By the 1960s, the medical compound had 70 buildings and could handle over 500 patients at one time. At Lambaréné, he was not only a doctor, but also a surgeon.
Additionally, Schweitzer was the pastor of his congregation, village administrator, writer of many scholarly books, contemporary history commentator, musician, and host to numerous visitors. Schweitzer died on September 4, 1965, at his Lambaréné hospital. His grave is situated next to the Ogooué River and it has a cross that he made himself.
Achievements and Honors
Schweitzer received numerous honors and awards in his life, such as Frankfurt's Goethe Prize and many honorary doctorates from universities. In 1952, he was awarded the Nobel Peace Prize. He built the famous leprosarium at Lambaréné with the award money. Queen Elizabeth II made Schweitzer a special honorary member of England's Order of Merit in 1955.