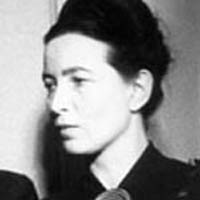 Born: Jan 9, 1908 in Paris, France
Died: Apr 14, (at age 78) in Paris, France
Nationality: French
Fields: Writing, existentialism, feminism, social theory
Famous For: Her novels, She Came to Stay, and The Mandarins
Author and philosopher Simone de Beauvoir (1908-1986) combined several important and varied philosophical ideals to develop her own school of thought, closely associated with the existentialist movement due to its focus on ambiguity, responsibility, and personal freedom.
Works and Contemporaries
Simone de Beauvoir was a contemporary of other famous French existentialist philosophers, including Jean-Paul Sartre (with whom she became romantically involved when she was 21 until his death), Albert Camus, and Maurice Merleau-Ponty. Her works span a variety of subjects and genres, including nonfiction writing on feminism, politics, ethics, autobiography, and fiction.
In fact, Simone de Beauvoir's definitive work on feminism – The Second Sex (1949), is still a vital text for the Women's Liberation Movement and is recognized as one of the top 100 most important works of the 20th century.
One of her works most well-known for its frank discussion and exploration of ambiguity, The Ethics of Ambiguity, looked at how people choose to readily give up personal choice and fail to take responsibility for their own actions in the name of "serious thought." Her novel The Mandarins is a story about people trapped in unclear political and societal situations after World War II.
Philosophical Approach
Simone de Beauvoir's philosophical approach is unique in that it combines varied theories to form her individual school of thought. Her influences, for example, included the idealism of Immanuel Kant, Karl Marx's theory of materialism based on a historical perspective, and French philosophies ranging from that of Descartes to Henri-Louis Bergson.
Personal Life
Simone de Beauvoir became romantically involved with French philosopher Jean-Paul Sartre when she was 21. He asked her to marry him, but she refused. Although they remained together until his death, she never set up a joint household with her steady partner and took a number of lovers, both male and female.
Simone de Beauvoir was a teacher until her license was revoked in 1943 after a young woman's parents filed charges against her, claiming she abducted their daughter and exploited her sexually while she was only 17, considered a minor.
Recognition and Awards
Born on January 9 in Paris, France, Simone de Beauvoir lived a full 78 years. In that time, she won many awards and recognitions, including being awarded the important French literary award, the Prix Goncourt. She was recognized at the time of her death in 1986 as an important author, social activist, and intellectual, but a full-blown recognition of her as a philosopher has come more recently, in large part due to her own way of thinking.