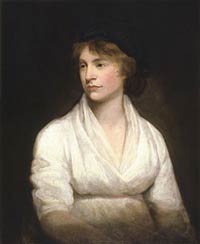 Born: Apr 27, 1759 in Spitalfields, London
Died: Sep 10, 1797 (at age 38)
Nationality: British
Fields: Writer, philosopher
Famous For: Advocating women's rights and writing novels
The Anglo-Irish feminist, Mary Wollstonecraft (1759- 1797) was considered one of the most significant female thinkers and writers or her time. She had a troubled personal life and her book, A Vindication of the Rights of Woman, published in 1792, was one of the earliest expositions of the equality of men and women.
Early Life
Mary Wollstonecraft was born on April 27, 1759, in Spitalfields, London. Her father, Edward John, inherited a great deal of money from his father, which he mismanaged and finally lost. He drank heavily and apparently had verbally abusive tendencies towards his kids. At the age of 15, Mary's family moved to Hoxton, where she befriended Fanny Blood and became her closest friend.
Personal Life
At the age of 19, Mary took a job that was available to middle-class women, which was being a companion to elderly women. She lived in Bath with Mrs. Dawson for a short time and then returned back home because of her dying mother.
Meanwhile, Mary's sister, Eliza, got married, and so Mary moved in with Fanny's family and supported them through her needlework. When Eliza's marriage was in trouble, Mary helped her and arranged a legal separation from her husband.
Mary, Eliza, Fanny and her sister, Everina, supported themselves financially by starting a school in Newington Green. It was here that Mary met Richard Price, a clergyman whose friendship led to meeting many liberals from England's intellectuals. Fanny got married and soon after that, she got pregnant. She called Mary to be with her and help. Soon after, however, Fanny and her baby died following a premature birth.
Wollstonecraft's Works
The financial condition of the school was not very good, so Mary focused on writing her first book, Thoughts on the Education of Daughters. The advance received from the publisher somewhat ameliorated the situation. Then she took the job as a governess in an Irish family and her employer was Viscount Kingsborough. Later, Lady Kingsborough fired her for becoming too close to her charges. Wollstonecraft then returned to England in 1787 and continued writing.
After dismissal from the job, Mary was given work and a place to stay by Joseph Johnson, her publisher. In 1789, she witnessed the French Revolution and developed a fantastic way of thinking. A Vindication to the Rights of Woman was published in 1792 and it became a controversial bestseller and gained a lot of popularity among feminists and the suffrage campaigners as the 18th century was drawing to a close.
Wollstonecraft's Vindications
In 1770, Wollstonecraft published A Vindication of The Rights of Men, in response to the Reflections on the Revolution of France, written by Edmund Burke whose work was written in defense of the aristocracy, the constitutional monarchy and the Church of England.
Wollstonecraft's book, however, advocated republicanism and attacked aristocracy.
Her more famous work – A Vindication of the Rights of Woman in 1792, created a radical claim that it would be a better society if mothers and wives were educated. She called for equality in sexes and also wrote about women's rights and duties. She expressed that their stations should advance rather than regress.
Personal Life and Death
Wollstonecraft got married to Gilbert Imlay, an American, and had a child, whom she named Fanny. In 1795, she tried to kill herself twice after finding that Imlay had an affair with another woman, but both attempts failed. She ended her relationship with Imlay and met Godwin in 1796, who married Mary only after she became pregnant.
She gave birth to a daughter, but died ten days after giving birth due to unhygienic practices that were common during childbirth at that period of time. She is buried in London at the Old St. Pancras Churchyard.