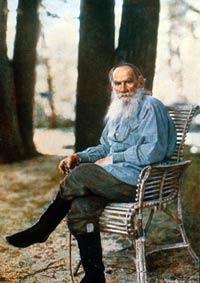 Born: Sep 9, 1828 in Yasnaya Polyana, Russian Empire
Died: Nov 10, 1910 (at age 82) in Astapovo, Russian Empire
Nationality: Russian, French
Fields: Writer, social reformer, moral thinker
Famous For: His novels & short stories, his persona, and his ascetic and moralistic views
Born on September 9, 1828, in the Russian Empire, Count Lev Nicolayevich Tolstoy, known as Leo Tolstoy, was one of the greatest novelists of all time as well as an influential and prominent essayist, playwright and philosopher. Also famous for his extreme ascetic and moralist beliefs, Leo Tolstoy was also an important figure of moral reasoning, the reform movement, and of Christian anarchism.
Early Years and Education
Born to wealthy parents belonging to the old Russian aristocracy and who passed away while Leo was still a child, Tolstoy grew up on the family estate – Yasnaya Polyana – together with his four siblings. After receiving his education at home, he attended Kazan University from 1844 until 1847 where he studied oriental languages and law.
After his studies were completed, he returned to his estate and in 1851, he joined the army with his brother and started writing short stories. From 1847 until his death, Tolstoy kept a diary, which has made him one of the more documented authors in history.
In 1862, he married Sophia Andreevna Behrs and they had 13 children together, three of which died in infancy. He was a proponent of democratic education and he founded 13 schools based on the principles set in his essay The School at Yasnaya Polyana, which was published in 1862.
Tolstoy's Philosophical Beliefs
The most controversial aspect of Tolstoy's philosophy is represented by his belief in the futility of the government and the efficacy of the ordinary, contrary to the beliefs of the great thinkers of his era. After the moral crisis when he was in his 40s, he started seeking God through logic or reason and truth in order to come to a complete understanding of life.
The metaphysics of Tolstoy focused on finding true religion as our only true connection to what exists – namely to God and the universe. He believed that neither philosophy nor science could establish a person's relationship with the infinite universe and that it was impossible to be an individual with no religion. He also accepted all world religions and considered that their fundamental morality is based on the concept "Do unto others as you would have done unto thy self."
Beliefs about Small Events
Tolstoy firmly believed that small incidents and decisions taken by common people, rather than major events, truly make history. The pivotal point of his thought is expressed by his preference for contingency and particularities in everyday life.
In his metaphysical essay Confessions, published in 1882, Tolstoy explained that only in the answers provided by faith, irrespective of its nature, can mankind find the true meaning of life and of a finite existence as part of the infinite, as he referred to the individual. According to Tolstoy, "God is life" and "the cause of everything."
Other Works and Publications
Tolstoy was a fervent pacifist and his non-fiction masterpiece The Kingdom of God is Within You (1894) was banned in Russia. It was considered a key book for non-violent resistance and Christian anarchist movements worldwide and it greatly influenced prominent personalities of the 20th centuries, including Martin Luther King, Jr. and Mohandas Gandhi. His most notable and longest literary works include Anna Karenina and War and Peace, two masterpieces of realist fiction.
Death and Personal Life
Leo Tolstoy died of pneumonia at the age of 82 on November 20, 1910, at the railway station in rural Astapovo, Russia. He is buried at his family's estate of Yasnaya Polyana. He was survived by his wife and their ten children.