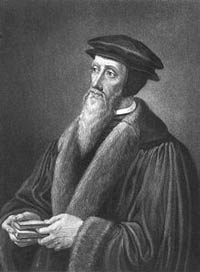 Born: Jul 10, 1509 in Noyon, Picardy, France
Died: May 27, 1564 (at age 54) in Geneva, Switzerland
Nationality: French
Fields: Pastor, author, theologian
Famous For: His writings and teachings which became the roots of Calvinism, a branch of theology
John Calvin was a French theologian and a pastor during the time of the Protestant Reformation. He played an important role in the development of the Christian theology system which was later called Calvinism.
Early Life and Education
John Calvin was born on July 10, 1509, in Noyon, France. At the age of 12, he was employed by a local bishop as a clerk and he received the tonsure and he shaved his hair off as a symbol of his total dedication to the church. John also won the patronage of a very influential family. With their assistance, he was able to go to college in Paris and he learned Latin. After his courses, he was admitted to the College de Montaigu to study philosophy.
In 1525, Calvin's father withdrew him from college and enrolled him in the University of Orleans to study law. His father believed John would make more money working as a lawyer than a priest. In 1529, Calvin enrolled at the University Bourges. After being in Bourges for about 18 months, he learned Greek, which was a necessity for studying the New Testament.
By 1532, Calvin had already received a licentiate in law. He then published his very first book, which were his thoughts concerning Seneca's De Clementia. He returned to Paris and in 1533, Calvin experienced a religious conversion. Later that year, he devoted his own inaugural address to discuss the need for reforms and renewal in the Catholic Church.
Calvin's Professional Career
In March of 1536, Calvin published his edition of Institutio Christianae Religions. This was a defense of his strong faith and also a statement of doctrinal positions of the reformers. This was also supposed to serve as clear elementary instructions for any individual interested in Christian religion. This was of the first expressions of theology.
After the book's publications, he went to Ferrara, Italy, where he worked as a secretary to Princess Renee of France. He later left to go to Geneva where he met William Farel, a French reformer. William convinced John to stay with the promise of assisting him in his work of reforming the church. In 1537, he was made pastor and he started taking up pastoral duties like weddings, baptisms, and even church services.
Between 1538 and 1541, Calvin was not in any way attached to any particular church. He held an office successively in Saint-Nicholas Church, former Dominican Church and Sainte-Madeleine Church. He preached and lectured each day, including two sermons on Sunday. Communion was also celebrated each month. In 1539, the second edition of Institutes was published. During his entire ministry in Geneva, Calvin preached more than 2,000 sermons.
The Calvinistic Theology
John developed his own theology in biblical commentaries and his sermons. His book, Institutes of Christian Religion was intended to be used as great summary of his own views on the Christian theology. The other successive revisions of this book showed that his theology had very little changes from his youth until his death.
The very first edition published on 1536 had six chapters and the second edition in 1536 was three times as long. In 1539, he added more material and expanded the chapter on the Apostles' Creed. The final edition appeared in 1559 and it was composed of four books with eight chapters each.
Calvin died on 27th May 1564 aged 54.