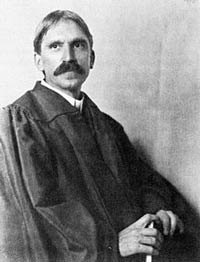 Born: Oct 20, 1859 in Burlington, Vermont
Died: Jun 1, 1952 (at age 92) in New York
Nationality: English
Fields: Pragmatism
Famous For: His ideas, which have influenced education and social reform
John Dewey (1859-1952), the founder of the philosophical movement "pragmatism," was one of America's most renowned teachers. He has also made some controversial changes in the educational system of America.
Dewey's Early Life
John Dewey was born in Burlington, VT, on October 10, 1859. He was the third son of his father, Archibald Dewey, who owned a grocery store in Burlington, and his mother, Lucina Artemisia Rich, the granddaughter of a congressman. His mother had a strong belief in Calvinism, which is a religion whose faith is expressed in terms of good works and moral behaviors. Though John Dewey's mother was strict with her kids, she encouraged them to achieve their ambitions.
Educational Years
Dewey and his siblings attended public school during their childhood years, after which they got admitted to the University of Vermont, Burlington. During this period, Dewey studied the theory of evolution and he was strongly influenced by the theory of natural selection. This encouraged him to focus on the interaction between environment and man while also considering questions of philosophy.
In 1879, Dewey completed his college courses and graduate. He then taught in a high school for about two years. At this time, he got an idea of pursuing a career in psychology. The acceptance of his essay written on philosophy by W.T. Harris encouraged him to get enrolled in John Hopkins University, Baltimore. He was also influenced by two other people, George Sylvester Morris, a Hegelian Philosopher, and G. Stanley Hall, an American experimental psychologist.
Works and Publications
John Dewey published his first two books while working at the University of Michigan. The book entitled Psychology was published in 1887. In 1888, he had his Leibniz's New Essays Concerning the Human Understanding published. Both of these books clearly indicated John's interest in Hegelian idealism.
In 1894, he joined the newly founded University of Chicago. During this period, John began to formalize his views that would contribute much to the school of thought called pragmatism.
In 1904, John joined the Columbia University where he continued his work until retirement. In 1905, he became the president of the American Philosophical Association.
Contributions to Philosophy
John Dewey made seminal contributions to almost all fields and topics in philosophy. His ideas about education came from a philosophy of pragmatism. For more than 50 years, he was the voice for a progressive and liberal democracy that helped shape America's as well as world's destiny. His pragmatic approaches to religion, aesthetics, and ethics also remained influential.
Personal Life and Death
Dewey was married twice in his lifetime. Alice Chipman was his first wife with whom he had six children. His second wife was Roberta Lowitz Grant. He died in New York City in 1952 and is buried in Burlington in the Dewey Memorial.